We have outfitted over one hundred thousand elevator cabs and escalators with polished metals over the years. From elevator cab finishes to polishing for metal cladding, interiors, railings, and elevator ceilings, this volume of projects has prepared our team to anticipate needs and accommodate accordingly.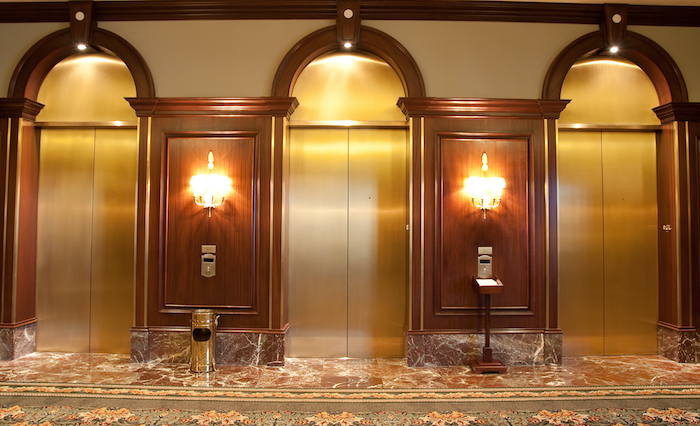 Elevators & Escalators
Our metal polishing services are used for finishing a variety of metal elevator and escalator components. Polish your complete elevator or escalator assembly to pristine condition that will suit the interior or exterior design of your project, adding beauty to the spaces where they're installed and improving overall functionality of these devices.
Our Elevator Metal Products
Our metal finishing services are used to create various aftermarket and OEM elevator and escalator parts such as:
Elevators – cabs, doors, entrances, interiors, exteriors, handrails, ceilings

Escalators – railings, balustrades, landing platforms, assemblies, handrails, skirts

Fixtures – call stations, elevator position indicator, push buttons, jambs, headers, and accessories
Elevator Cab Finishes & Metals
We maintain a large inventory of the metal types and finishes most often used in elevator cab and escalator projects, including stainless steel, brass, bronze, muntz metal, copper, and aluminum. The most common elevator cab finishes include long-grain, non-directional satin, and mirror. Our in-house facility with the best equipment available allows our team to consistently deliver a superior product, on time. 
Custom Metal Finishing Is Available
Our broad selection of finishes and our large inventory of metals can be used for most elevator and escalator projects. However, we can also complete custom metal finishing projects and are able to match most samples brought to our in-house metal finishing facility. If you're in need of custom metal polishing for an elevator or escalator project, get in touch with our team today!
"I have been working with Polished Metals and Bobby Gunther for over 30 years. They are my preferred supplier for polished and specialty metals. My company (ISO-9001 certified) works with high end architects and consultants for some of the largest Class A projects in the US. I would not consider another supplier for these projects. They always have the best quality, lead-time, customer service and competitive pricing in their industry. Their reputation in the market is exceptional and you can count on them to stand behind their product. They stand out for their large inventory and availability of specialty metals in all types of finishes and gauges. This is extremely important for us when working with just in time inventory."

Elevators and Escalators
"I work with few material vendors and Polished Metal's customer service is by far the best. Bob Gunther answers all my emails on time, even on weekends. He always gives me accurate delivery times, which is very helpful on our work schedule. If there is something delaying the order he will let me know as soon as possible. If all my vendors had the same customer service, it would definitely make our job easier."

Elevators and Escalators